If you have been searching for sexy bras and women's swimwear, you will find it here, in abundance! We are passionate about great fitting bras and swimwear and have been offering an amazing range of styles in large cup bras fitting from D-K cup, plus size bras and bra sized swimwear and have been actively online now for 16 years. At EnVie we recognise that a woman's shape is unique to her and enable you to buy tops and bottoms separately in order to give you the perfect shape.
New to EnVie?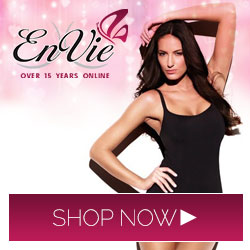 We are proud to be trading in our 17th year in the lingerie trade. We have an extensive range of customers throughout the UK and are well experienced with customers worldwide.
Visit us
Our premises are based in Cleckheaton (between Leeds and Bradford) West Yorkshire. If you would like to visit directly please call on 0113 8980077 to make an appointment. Just drive through Cleckheaton Town Centre pass the Post Office on your left, we are based at No 6 Clarence Street which is the further up the road on the left (just after ATS Tyres). Just turn in by the Chinese Take Away!
We are the major stockists in the North of England for Anita Bras which include Anita Rosa Faia, Anita Comfort, Anita Mastectomy, Anita Swimwear and Anita Active. We are happy to price beat on any of these garments seen elsewhere and if you cannot find it on our website we will be happy to order in for you.
Bra Sized Swimwear
Specialists in bra size swimwear, we stock an amazing range of swimwear for women including plus size swimwear, underwired tankinis, underwired swimsuits, nonwired swimsuits, large cup bikinis including J cup swimwear and also K cup, sarongs and kaftans from leading manufacturers:
Freya Swimwear
Fantasie Swimwear
Curvy Kate Swimwear
Moontide Swimwear
Anita Swimwear
Anita Care Mastectomy
Anita Maternity Swimwear
Emma Jane Maternity Swimwear
Panache Swimwear
Shapewear and Corselettes
Change your shape dramatically with our shapewear range including Playtex 18 hour and Playtex Fits Beautifully ranges with the ever popular corselettes and open corselettes.
Maternity Bras, Maternity Underwear and Supportwear
We hold an extensive range of maternity underwear starting at a size 30inch back right up to 46 inch back. The ranges include sexy maternity bras, underwired maternity bras, maternity briefs, shorts and thongs along with an amazing range of maternity support garments, offering maternity belt support and support tights.
Post Pregnancy Shapewear and Nursing Bras
We offer a revolutionary range from Carriwell which work towards permanently reducing your tummy back to how it was pre pregnancy.
Our plus size nursing bras go right up to a J cup and we also carry the best selling Anita underwired nursing bras with specially formed underwires in H and I cup, now available in 4 colours.
We are also pleased to offer an extensive choice of nursing nightwear including nursing pyjamas, nursing nighties and nursing nightshirts.
Panache Maternity
Anita Maternity
Bravado
Carriwell
Freya Maternity
Hotmilk
Emma Jane
Mummy Darling
Mastectomy Bras, Prostheses and After Surgery Bras
We have expert trained fitters with over 20 years experience and offer a vast choice of mastectomy bras at VAT exempt prices if you have undergone a mastectomy. We also stock a varied range of prostheses and breast pockets that can be added to other bras. Along with mastectomy swimwear including mastectomy tankinis, mastectomy bikinis and mastectomy swimsuits. We can also pocket most items from the Anita Comfort range so it is worth taking a look at this range too.
More and more women are choosing cosmetic surgery to create their perfect shape and we offer a great choice of non restrictive post surgery bras to make you more comfortable after your surgery.
Bespoke lingerie is made in the North England at our Studio in Cleckheaton, our designer has a wealth of experience as she has been designing over 30 years. If you would like something made especially for you then please arrange an appointment with her on 0113 8980077. We have a large variety of different laces and colours that you can have your bra made up in.