Simply Pleasure is the retail chain owned by the parent and sex toys distribution company, ABS Holdings. ABS Holdings is the largest sex toys distributor in the UK.
ABS Holdings and therefore Simply Pleasure is actually a family business that has been running for many years, stretching back through several generations. The origins of ABS Holdings came to be, when owner Tim Henning's grandfather invented the formula for TCP. A manufacturing chemist, his company had a lot of contact with herbalists who also sold medical aids and appliances for the disabled.
This eventually led to the introduction of sex toys to the company, with the first vibrating massager called the Non-Doctor being brought into the UK from China, ready to be sold to customers.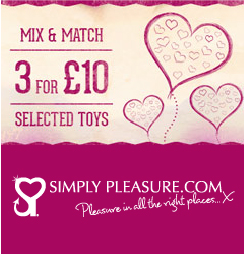 When Tim bought his father out in 1984, the company was still trading out of a small lock-up in Leicester. Tim bought his first shop in 1985 and then moved down to Bournemouth to refurbish and manage it himself. We still trade at this store today, which can be found at 180 Holdenhurst Road.
Since then Simply Pleasure has seen exponential growth in the sex toys arena, now occupying a 15,000 square foot unit in Dorset, UK. There are over 100 people employed by Simply Pleasure Ltd in the UK and we are proud to boast a chain of over 30 licensed sex toy shops on the high street. These include both the ETO award winning Simply Pleasure chain (Best Retail Chain 2013) and the Fifty and Dean gay fashion and sex toy shop in Soho, London.
The sex toys and adult products you order from Simply Pleasure are sent out directly from our warehouse in Dorset UK, so you are assured of a direct service as well as a reliable point of contact for any order queries.
Simply Pleasure is proud to be the award winning recipient of many adult industry accolades, including winning the 2013 ETO Awards Best Sales Team, Best Pleasure Products Distributor and Best R18 Distributor for ABS Holdings as well as Best Retail Chain for Simply Pleasure.
Previously, ABS Holdings received ETO Awards for Best Erotic Goods Distributor in 2007 as well as Best Sales Team in 2008 and 2010.
With over 37 years in the adult and sex toy industry, you are in the right place for the best sex toys, a personal commitment to customer service, high quality products and the lowest prices on all your adult products.