Join an underwear revolution
Manhood Undies is an online independent retailer of men's underwear and swimwear based in the UK. But we are more than just an online store; we are the start of a movement that is going to revolutionize the underwear and swimwear habits of men up, down and across the UK and hopefully the world! We want to educate the modern man that it's about time he wore modern underwear.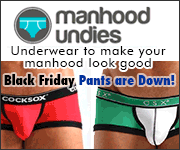 You won't find the usual selection of boring boxer shorts or the same swimwear that 1000s of other blokes have bought from a big High Street store. We have searched the world looking for the most exciting and stylish men's underwear and swimwear. You won't find our brands on the High Street, and some of them you won't even find on other men's underwear websites.
The best online underwear and swimwear
All of our products are selected personally by our team of passionate buyers who only select underwear and swimwear that is going to make your manhood look its best. We have a huge selection of styles for every occasion and use.
Our range includes everything from bold coloured briefs through to sexy see-through boxers. We have a range of styles; you will find trunks, hipsters, briefs, boxer briefs, thongs and jockstraps. We will help you choose the style that works best for you and your manhood, so you both look your best.
The number 1 choice for you and your manhood
So if you are looking for men's designer underwear online, a pair of stylish swimming shorts, or some extra support for your manhood when cycling or running we should be your number one choice.