Lovehoney are the sexual happiness people, and we make a fun, fulfilling sex life available to everyone. We're the UK's biggest online adult retailer and 1 in 3 sex toys sold online in the UK comes from our warehouse in Bath.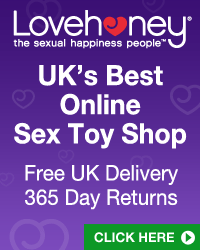 Back in 2002, buying a sex toy meant being confronted by pornographic, male-centric websites, explicit language and (often literally) in-your-face packaging. Realising that the industry was alienating huge numbers of potential customers, colleagues and friends Neal Slateford and Richard Longhurst decided it was time things changed.
Lovehoney breaks away from the days of 'seedy' shopping, helping you to celebrate and explore your sexuality, whatever your tastes.
Creating a comfortable, couple-friendly online space which appealed to all sexualities, genders and relationship types, Lovehoney began to stock products with clean, informative packaging. The company began on a single computer in Richard's flat, and the pair had to go to the Post Office to buy an envelope for their first order.
Thirteen years on from our humble beginnings and we're extremely proud of everything we have achieved. In 2012, we secured the exclusive world rights to design, manufacture and sell Fifty Shades of Grey sex toys, bondage items and pharmacy products approved by author E L James. Feedback on our two fantastic collections has been better than we could have expected and we're looking forward to all of the amazing opportunities this exciting brand can offer.
With a team of 180 (and growing) staff members, our HQ opens 7 days a week and provides 42 different countries with sexual happiness. We have 13 years experience in delivering high quality, great value products to your door in the fastest and most discreet way possible.