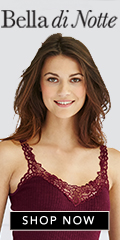 It began on Susan's kitchen table in 1998 where she drew her first vest design. Her vision was to give thermals a new, high quality lingerie context without compromising on wearer comfort. Her aim – to offer beautiful thermal underwear made in comfortable natural fibre.
Now with over 45,000 customers our passion for honest, helpful, personal service and impeccable quality remains constant. We are dedicated to offering you something much better than the mass produced experience on the high street.
Each collection takes time Susan personally oversees the selection of all the garments in the collection. Our small, experienced customer service team have first hand knowledge of all our garments.
Made in Italy all Bella di Notte vests and briefs are made to our exclusive specification using the most exquisite natural fibres. We work with like-minded Italian family businesses who take great pride in garment design and quality. The result is comfortable lingerie with enduring elegance designed for real women.
Customers around the world order from Bella di Notte's base on the edge of the North Yorkshire Moors. Each order is hand wrapped in tissue before we post it to our customers all over the world. News of our exclusive designs has spread, Bella di Notte vests are not only being worn as underwear but outerwear too.
Expert bra fitting from our experienced team of female bra fitters. As women, we know how important it is to wear a good fitting bra. Each bra must pass our wearer tests to ensure comfort, fit and support are optimal. We are dedicated to finding you a comfortable, perfect fitting bra that you look and feel fabulous in. With so many pretty, feminine bras in sizes 30-46, AA-I cup you'll be spoilt for choice!
Customer service & satisfaction is very important to us. Our customers are welcomed as individual's and every effort is made to help them with their choice of style and fit. There is a strong commitment to ensure customers receive a prompt response to their requests and orders.
All new styles are introduced in response to customer requests. Customers are also involved in wearer trials of concept designs. In this way, nothing is added to a new collection until it has been tried and tested thoroughly.
So whether you enjoy exclusive Italian made lingerie or want to keep cosy and warm. Bella di Notte can offer a wide choice of comfortable lingerie whatever you're doing. All backed by a money back guarantee.